St Anselm's: History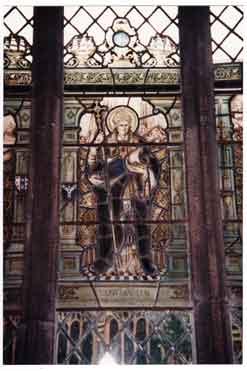 Window depicting St Anselm at St Werburg's Cathedral, Chester, England
Photo: R Hancock
In 1842 a small group of Congregationalists, recently arrived from England, gathered together in a private home under the leadership of Jonas Woodward.
They formed the first Congregational Church in Wellington, opening a chapel in Pipitea Street, Thorndon. After a series of earthquakes which badly damaged the chapel, they moved to Woodward Street in 1849.
In 1888 the congregation moved to a substantial wooden complex that included a church and hall, newly built on the corner of Bowen Street and The Terrace. This remained the place of worship until 1954.
Two years earlier, in 1952, they had decided to sell the site, as the church buildings needed major repairs and restoration. The last service held there was on 5 September 1954. The Government bought the site, demolished the church, and built the Reserve Bank building which still stands there today.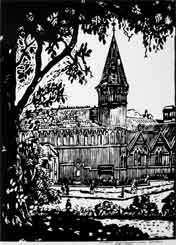 Original Terrace Congregational Church
The Congregational Church bought a section at 30 Makara Road, Karori, built a new church, and held the opening service on 25 March 1956. In the intervening two years, until the new building was completed, they met in a local house. The fellowship was renamed the Karori Congregational Church (formerly The Terrace Congregational Church).
The pipe organ, built in 1890, together with the kauri pews, were moved from The Terrace to Karori, and are still in use today.
In 1967 the church formed a co-operative venture between Congregational and Presbyterian partners. This new venture was named St Anselm's Union Church. Several years later the Associated Churches of Christ joined, as a third partner.
Since the establishment of St Anselm's a number of members have joined, with no specific denominational allegiance. That trend continues, as we strive to be an open and welcoming congregation.